Accessibility View SAVE CANCEL CREATE DRAFT Santa Ana Community Counseling Specializing in therapy for all Individuals, Couples, Children/Adolescents & Families Welcome Services Provided Our therapists Helpful Forms Rates & Insurance Common Questions Appointment Request More Links & Resources Privacy & Policy Contact Us/Address Counseling Services Individuals and couples Children, teens & families Relationship Issues Grief and Loss Depression and Anxiety Life transitions Work or academic Issues Parenting and adoption Addiction & Stress Management Plant background Our therapists
Naveen Jonathan, Ph.D., Licensed Marriage & Family Therapist #46703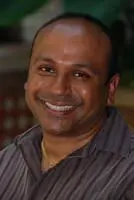 I am a Licensed Marriage & Family Therapist and Educator in Orange County. I work with a diverse range of couples, families, children/adolescents and individuals from a systemic relational perspective. I work from a Solution-Focused perspective, assisting clients to find solutions to their problems, while noting and building awareness of strengths, exceptions and differences in their lives. I work collaboratively with clients to set and monitor goals in treatment.

Populations I have experience working with include, but are not limited to:
Couples negotiating their relationship.
Couples seeking relationship maintainence.
Couples seeking pre-marital counseling.
Couples seeking to promote gender equality in their relationship.
Children/Adolescents and their families who are dealing with academic and behavioral issues.
Clients who identify as elders and their family system.
Clients and their families dealing with a medical illness.
Clients who are dealing with the stressors of immigration and acculturation.
Clients who have dealt with discrimination based on their identity.
Clients who are dealing with issues of faith/spirituality.
Clients that identify as LGBTQ.
Clients who identify as college/university students.
Clients who are making work/career transitions.
I am an active member of the American Association of Marriage & Family Therapy (AAMFT) and the California Association of Marriage & Family Therapy (CAMFT). I also am an AAMFT Approved Supervisor and provide Supervision of Supervision for AAMFT Approved Supervisor Candidates.